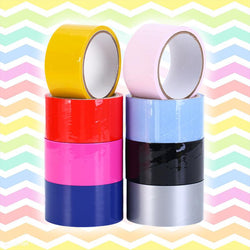 The Kinky Peach
Bondage Tape
This shiny pleasure tape can be used in a variety of creative ways to make to make bondage easy and fun! For example, you can bind, gag, blindfold, and mummify.
It can be used as a simple solution for when you want to restrain your partner(s) without having to deal with complicated knots, buckles or locks!
Size
15 meters
Fun Tip!
Try utilizing two colors for a unique look!

Suggested Skill Level
Great for all skill levels! 
Whether you're a newbie, beginner, casual kinkster, experienced, or a professional, these bondage tapes are so much fun and easy to use!