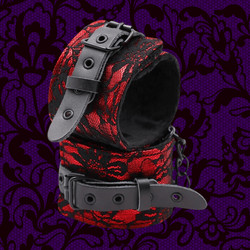 The Kinky Peach
Lace and Lust Cuffs
Keep your submissive where you want them with these beautifully crafted cuffs/restraints! They're made with adjustable vegan leather, black hardware, lace, and soft fuzzy lining to ensure hours of comfortable play!
Size
• Wrists: Adjustable 8 - 12 inches x 2.5 inches
• Ankles: Adjustable 10 - 14 inches x 2.5 inches
Order the Complete Set/Bundle and save money!
Material
Vegan Leather & Lace