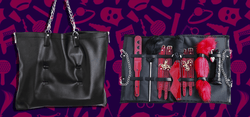 The Kinky Peach
BDSM Toy Bag
Do you need a toy bag?
Here's a short (and not at all complete) list of why you might want to pack up your kinky toys:
You plan to play in a BDSM dungeon, in a sex club, or at a play party. Some places may have "house" toys you can use, but it's understood that you'll likely bring your own with you.
You're traveling for any reason and want to make sure you can get kinky while you're away from home.
It helps your bedroom and/or home feel more organized.
You're trying to hide it from someone in your home — kids, roommates, family members, a cleaning service. Packing your toys away into a nondescript bag keeps them discreet so the whole world doesn't know what you're into.
Because you want to. Which is as good a reason as any!
*Please note: this listing is for the bag only. Toys are sold separately. 
Material
Vegan Leather & Metal
Dimensions
♡ When bag is Closed: 17 x 13 inches
♡ When bag is Open: 25 x 13 inches
Suggested Skill Level
Great for all skill levels! Whether you're a newbie, beginner, casual kinkster, experienced, or a professional, this bag is so versatile, durable and easy to use!