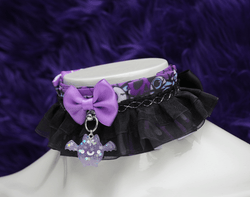 This creepy cute collar is sturdy, tug proof, and easy to wear! Can be used for everyday fashion, LARPING, cosplay, or BDSM play. The collar attaches in the back with a ribbon laced through sturdy D-rings, but can be replaced with any tie or lock of your choosing.
Charms
Bat charm colors vary by default. Please specify in checkout notes if you'd like a specific one.
Size
1.75 inches wide
Each collar is one size fits all, but the collar length can be customized for how long the collar itself will be. Even the smallest option collars can fit any sized neck since the back is open and fastened with a ribbon! (It just may not reach around all the way.) Starting measurement is 12".

Material
Lace, Satin Ribbon, and Silver Hardware
Made to Order
Every collar is made to order, so please allow 1-2 weeks of production time! (Production time may vary depending on order volume).

Artist
Handmade with lots of love by Danelle Dark Arts ✨
A percentage of all sales goes to the artist to help them continue creating art! Thank you for shopping small and supporting independent sex positive artists!