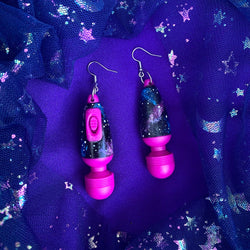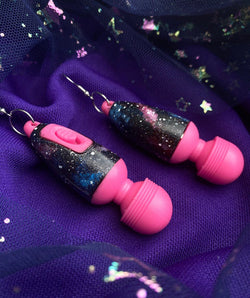 The Kinky Peach
Hand Painted Galaxy Vibrator Earrings
♡ To love oneself is the beginning of a lifelong romance. ♡
Yes, these adorable cute & kinky earrings VIBRATE!
Hand Painted with Lots of Love!
These limited edition vibrator earrings are individually hand painted with lots of love and care! Please keep in mind that each pair of earrings are unique and will look slightly different from the photos.
Made to Order
Each pair of earrings are made to order, so please allow at least 1 week of processing time! (Production time may vary depending on order volume).
Size
2.5 x 1.75 inches
Material
Plastic
How to Replace Batteries
Operated with LR1130 cell batteries that can easily be replaced without any additional tools! To replace the batteries, simply twist the o-ring that is connecting the hook/clip-on to the vibrator. Since the o-ring is thin, you can easily twist it with your fingers! After disconnecting the o-ring, take off the head/cap, split open the vibrator and replace the batteries. Batteries can be easily purchased on Amazon or eBay. If you have any additional questions, please feel free to email me! :)