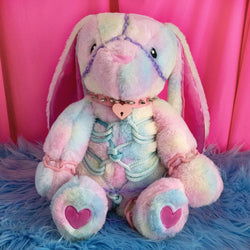 The Kinky Peach
Penelope the Pastel Rainbow Rope Bunny
Each Kinky Plushie/Stuffie is one-of-a-kind & handmade with lots of love and care ❤ Details are hand-sewn, chains are hand-cut, and ropes are hand-dyed!
Size
• Height: 17 inches
• Width: 8.5 inches
Material
Plastic and Metal 
Want to Customize this Cutie?
All Kinky Plushies/Stuffies are customizable! I can remove any accessories for you and/or add some
(with additional charge)
. After adopting, please email me with your order number and customization details.