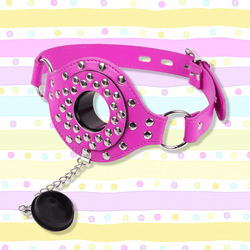 The Kinky Peach
Plug My Hole Gag
This unique gag system provides an unforgettable mood for you and your submissive lover! This one-size-fits-most gag can be plugged or unplugged, depending on how you want to use your partner. Trap them in this gag to create the illusion of helplessness that your sub craves!
Material
Vegan Leather
More Styles
Check out this gag as a Head Harness! Click Here.

Suggested Skill Level
Intermediate - Expert
Breath play/control can be dangerous and even deadly. Individuals looking to experiment with breath play should be extremely cautious. You should use communication during the act and employ the use of safe words and gestures.