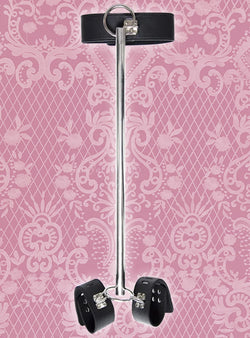 The Kinky Peach
Posture Bar
Keep your submissive where you want them with this beautiful restraint that includes a metal bar crafted with a collar riveted to one end and two bondage wrist cuffs attached to the other end! They're made with vegan leather, heavy duty hardware, polished edges, adjustable buckles, and soft lining to ensure hours of comfortable play!
Locks and keys are included for the collar and both cuffs.
Very Versatile!
This fun set can be worn with wrists restrained in front of the torso or behind the back!
Material
Vegan Leather & Metal
Suggested Skill Level
Great for all skill levels! Whether you're a newbie, beginner, casual kinkster, experienced, or a professional, these restraints are so much fun, durable and easy to use!