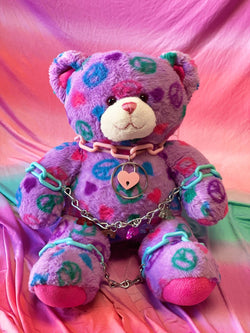 The Kinky Peach
Serenity the Kinky Bear
Each Kinky Plushie/Stuffie is one-of-a-kind & handmade with lots of love and care ❤ Details are hand-sown, chains are hand-cut, and ropes are hand-dyed! Instead of adding to the landfill, they're made from upcycled plushies so they may have small (barely noticeable) blemishes. But don't worry, they have been professionally cleaned and re-stuffed so they're ready for cuddles!
Size
• Height: 14.5 inches
• Width: 12 inches
Weight
1.4 lbs
Want to Customize this Cutie?
All Kinky Plushies/Stuffies are customizable! I can remove any accessories for you and/or add some
(with additional charge)
. After adopting you can please email me.