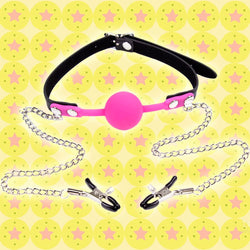 The Kinky Peach
Silicone Ball Gag with Nipple Clamps
Perfect for suppressing your sub's sounds of delight when they are just a little too loud for the neighbors!
Size
• Gag Strap: 23.5 inches
• Nipple Clamps: 13 inches long
Material
PU Leather (Vegan), Silicone, & Alloy Metal
Suggested Skill Level
Great for all skill levels! Whether you're a newbie, beginner, casual kinkster, experienced, or a professional, this gag is so much fun, durable and easy to use!