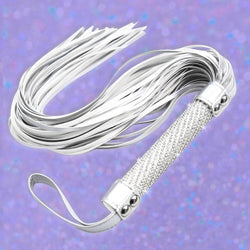 The Kinky Peach
Silver Rhinestone Flogger
Luxurious flogger with a sparkly rhinestone handle flogger and soft silver vegan leather tails!
Size
• Handle: 6.10 inches
• Tails: 15.75 x 0.22 inches
Material
PU Leather (Vegan)
More Styles
Check out this flogger in Black! Click Here.
Suggested Skill Level
Great for beginners! Not recommended for heavy impact or rough play.