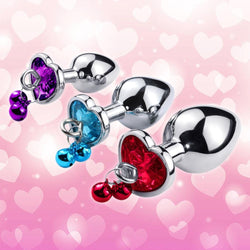 The Kinky Peach
Heart Jewel Butt Plug with Bells
Twinkle twinkle little plug, up inside your butt so snug... These super cute butt plugs are perfect for beginners or experienced users due to the variety of sizes available!💕
The real fun begins when you bend over and let your lover catch a glimpse of the sparkly "jewel" you're wearing ✨😉 Jewel butt plugs make for a wild erotic surprise – whether you're showing yours off in person or sending naughty pictures!
Features
♡ Ultra-smooth
♡ Easy to clean
♡ Tapered tip encourages easy insertion, while the flared jewel-tipped base keeps it in place for peace of mind.
♡ Perfect for temperature play and exciting warm or cool sensations.
Safety & Pleasure Tips
Start with the smallest size, or order the whole set and train your way to the largest.
Use safely with a silicone or water-based lubricant to ensure a pleasurable experience.
After use, the plugs clean up easily with soap and water or toy cleaner.
Each plug comes in a soft felt pouch to keep them safe & clean. But make sure to give them a good wash after each use!
Size
Available in 3 different sizes. See images for exact measurements!
Material
Aluminum alloy metal