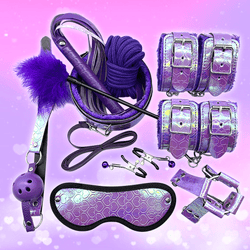 The Kinky Peach
Holographic Hearts Beginner's Bondage Set
This cute & shiny bondage set features everything you'll need to test the waters and have some kinky fun! This set is perfect for beginners since everything is crafted with materials that are soft and gentle on your skin.
*Please note that this set is meant for beginners/newbies. It is not durable for extreme use and not recommend for rough play!

Includes...
Wrist Cuffs

Ankle Cuffs

Collar

Leash

Soft Cotton Rope

Feather Tickler

Blindfold

Adjustable Nipple Clamps with Bells

Beginner Flogger

Ball Gag

Hogtie/4-way connector
Before playing, always communicate/negotiate and make sure to establish consent, safe words, and limits (soft and hard). Additionally, during a scene always make sure to check in with your partner(s). Lastly, don't forget after-care!

Size

Wrist Cuffs: 12.5 x 2 inches
Ankle Cuffs: 14.5 x 2 inches
Collar: 20.5 x 2 inches
Leash: 39.5 inches
Rope: 10 feet
Tickler: 10 inches
Blindfold: 7.75 x 3 inches


Flogger: 17 inches
Ball Gag: 24.5 inches
Hogtie: 12.5 x 1 inch
Material
Vegan Leather, Faux Fur, Metal (contains nickel)

Suggested Skill Level
Great for beginners & intermediates! Not recommended for heavy impact or rough play.