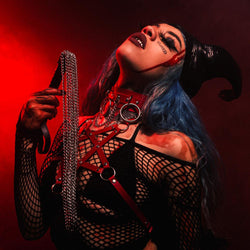 The Kinky Peach
Chain Flogger
A hardcore flogger with metal chain tails! Perfect for deviant sadists and masochists with a high pain tolerance.
Fun Tip
Metal chains are perfect for sensation play! Use the flogger during warm up and tease your partner - as they're blindfolded, have them feel the metal chains brush against their skin. Or use the flogger after a hot and heavy session - the cold chains against a warm bruised bottom is a great way to finish.
Size
• Handle: 6.5 inches
• Tails: 15 inches
Material
PU Leather (Vegan) & Alloy Metal
Suggested Skill Level
Great for intermediate and experienced kinksters! Not recommended for beginners.