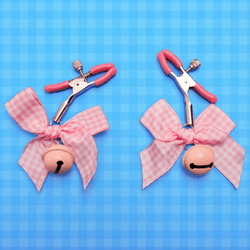 The Kinky Peach
Pink Plaid Bow Nipple Clamps with Bells
Tightness/Pain level can be adjusted!

Material
Ribbon and Metal

Size
2.5 x 3 inches

Available in more Colors!
• Pink
• Red
• Silver
• Black
• White
• Black & White Plaid
Suggested Skill Level
Great for all skill levels! Whether you're a newbie, beginner, casual kinkster, experienced, or a professional, these nipple clamps are so much fun, durable and easy to use!