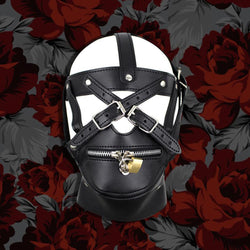 The Kinky Peach
X Rated Head Harness w/ Muzzle - Black
This vegan leather head harness includes a zipper muzzle that wraps snugly around the face and a X buckle design. Whether worn by a dominant or submissive partner - or bystanders quietly watching - hoods can change the dynamic of a scene. For the submissive, wearing a hood can take their surrender a notch further than before!

Locks and Keys are included!
Material
Vegan Leather
More Styles
Check out this Head Harness in Baby Blue! Click Here.
Suggested Skill Level
Intermediate - Expert
Breath play/control can be dangerous and even deadly. Individuals looking to experiment with breath play should be extremely cautious. You should use communication during the act and employ the use of safe words and gestures.