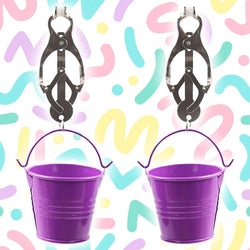 The Kinky Peach
Bucket Nipple Clamps
Put your submissive through a unique torment with a set of nipple clamps that allows you to add weight! In the style of butterfly clamps, these attractive pincers get tighter as they are pulled. However, the rubber tips ensure that all pain is in the form of pleasure and that they maintain their grip! To add weight, simply fill the small, hanging buckets with water, lube, sand, stones, or whatever your devious mind can come up with.
Material
Stainless Steel and Rubber

Specifications
• Clamps: 3.54 inches long
• Buckets: 1.97 x 2.17 inches
• Weight: 0.15 lb

Suggested Skill Level
Great for intermediate and experienced kinksters! Not recommended for beginners.