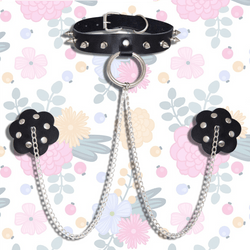 The Kinky Peach
Devious Collar with Nipple Pasties
This sexy spiked collar has re-usable vegan leather nipple pasties attached!
When treated with love & care, these silicon adornments can be worn many times.

Material

Metal (contains nickel)
Silicone Pasties
Can last for 10 to 12 hours but can be re-attached!
Self-adhering with an easy, peasy application
Size
• Collar: 22 inches
• Pasties: 2.5 x 2.5 inches
How to wear Pasties
Peel off the thin plastic film and DO NOT DISCARD! Position the pasties over your nipples and apply firmly. Now go have some sexy fun! When you're ready to remove them, follow the cleaning guide below. After they are FULLY DRY, cover the sticky part with the thin plastic film that you saved!
You can use pastie glue or a double sided fashion tape for a better stick! Eyelash glue also works in a pinch!
Do's and don'ts for cleaning nipple covers
It is best that you clean the nipple covers after every use to prevent the buildup of sweat, dirt and body oils.
To clean you need warm water and some mild soap only. Follow the following steps for the best results:
Start by wetting the silicone nipple covers using warm water.
Put a little soap on the surface and rub on it gently.
It is best that you use your hands as opposed to a brush to avoid damaging the adhesive part.
Once you have all that dirt out rinse using warm water and leave out to air dry.
With this method you can get many uses from your nipple covers. However, once the adhesive reduces you may have to replace them to avoid any accidents when you are out and about.
Never clean your nipple covers using a brush or cloth as it could damage the adhesive.
You should not use harsh detergents when cleaning as they could destroy the covers.
You should not soak your covers in water or leave them overnight as it could also damage them.
Do not dry your nipple covers using a towel, or in direct sunlight or using a dryer.
Do not machine wash the silicone covers.