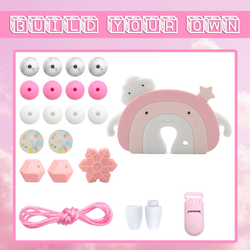 The Little Peach
DIY Pacifier Clip & Teether - Rainbow
Build your own adult pacifier clip + teether with this fun DIY kit! Get creative and make it more personal by adding your own beads, charms, and/or teethers!
Textured Teether
Each teether is designed with different textures to stimulate and activate your little one's curiosity! The soft and textured teether toys are durable and will be your little's best company for every chomp and chow!

Lightweight for Easy Grasp & Hold
It's lightweight and easy-to-grab shape is perfect for little grabby hands!

Safe, Durable, and Easy to Clean
Dishwasher safe and can be sanitized in hot boiling water! Additionally they are free of BPA, phthalates, lead, and PVC.
In addition to receiving treats & toys, food grade sanitary wipes are also included free of charge 🥰
No Minors in Kink (18+ ONLY)
This item is intended for adults over 18 only! It is not intended for minors or for infants/real children and may result in a choking hazard. Please do not purchase if you are under 18 and please do not gift to a minor. This shop does not support minors in kink.