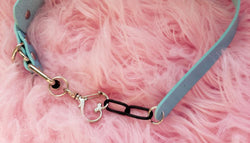 The Kinky Peach
Choker/Collar Extension
Love a choker/collar but it's too small? No problem! I offer extensions for every style :) The extensions are with a heart shaped lobster clasp and black steel chain or plastic colored chain (not additional pleather).
How to Order
After finding the perfect choker/collar, view the product description for the extension style (A, B, or C).
*Some styles are more expensive because it requires 2 rows of chains due to the width of the choker/collar.
Not Sold Seperately
Extensions must be purchased with a choker. Unless you have the correct tools, you will not be able to add the extension yourself. Thus, all extensions are added before shipment. If you have your own choker that needs an extension, please email me for more information :)