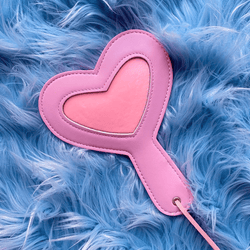 The Kinky Peach
Fuzzy Love Paddle
♡ You deserve to be with someone who gives you that warm fuzzy love feeling! ♡
Variety is the spice of life, so spice up your love life with the dual textures of this adorable heart-shaped paddle! It's "thuddy" impact is paired perfectly with a soft fuzzy center.

Size
8 x 6 inches

Material
Vegan Leather

Suggested Skill Level
Perfect for beginners! Not intended for rough play.