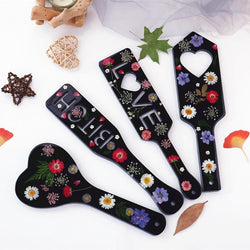 The Kinky Peach
Paddle Silicone Resin Mold
Get creative and make your own Paddles! These resin molds are great for DIY projects. You can use the paddles for gently warming up during play, home decor (hang them on the wall!), or as fun gifts!
Easy To Use & Release
After carefully twisting the mold, your paddle can be easily pushed out. Additionally, after use, cleaning is easy with soap and water! Make sure to store them in a safe place, away from dust after washing.
Material
Silicone
Sizes
♡
Heart
: 10.8 x 4.9 inches
♡
LOVE
: 12.3 x 2.8 inches
♡
BITCH
: 12.3 x 2.6 inches
♡
Heart Cut Out
: 12.3 x 2.8 inches