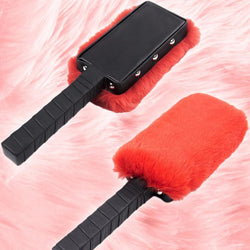 The Kinky Peach
Sweet Sadist Faux Fur Paddle
Variety is the spice of life, so spice up your love life with the dual textures of this faux fur paddle! It's "thuddy" impact is paired perfectly with a soft backside. Perfect for sensation play!

Size
13 x 3 inches

Material
Vegan Leather & Faux Fur

Suggested Skill Level
Great for all skill levels! Whether you're a newbie, beginner, casual kinkster, experienced, or a professional, this paddle is so much fun, durable and easy to use!