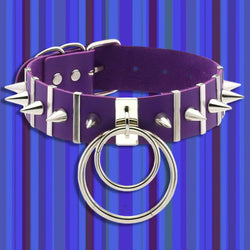 The Kinky Peach
Sweet as Sin Choker
You are chaos and beauty intertwined. A tornado of roses from divineQ
Size
16 x 1.15 inches

Size Extension Info
Extensions are made with chain and a cute lobster clasp (not additional pleather).
Here's what they look like! (x)

♡ Extension Style: A
Material
PU Leather (Vegan)
Durability
Recommended to be worn as a fashionable accessory. Can be used for play but with light tugging. Not recommended for rough play! 
*Find tug proof chokers/collars that are safe for play here!
Customize this Choker / Collar
Check out the customs page to view our selection of locks, bells, charms, and more!